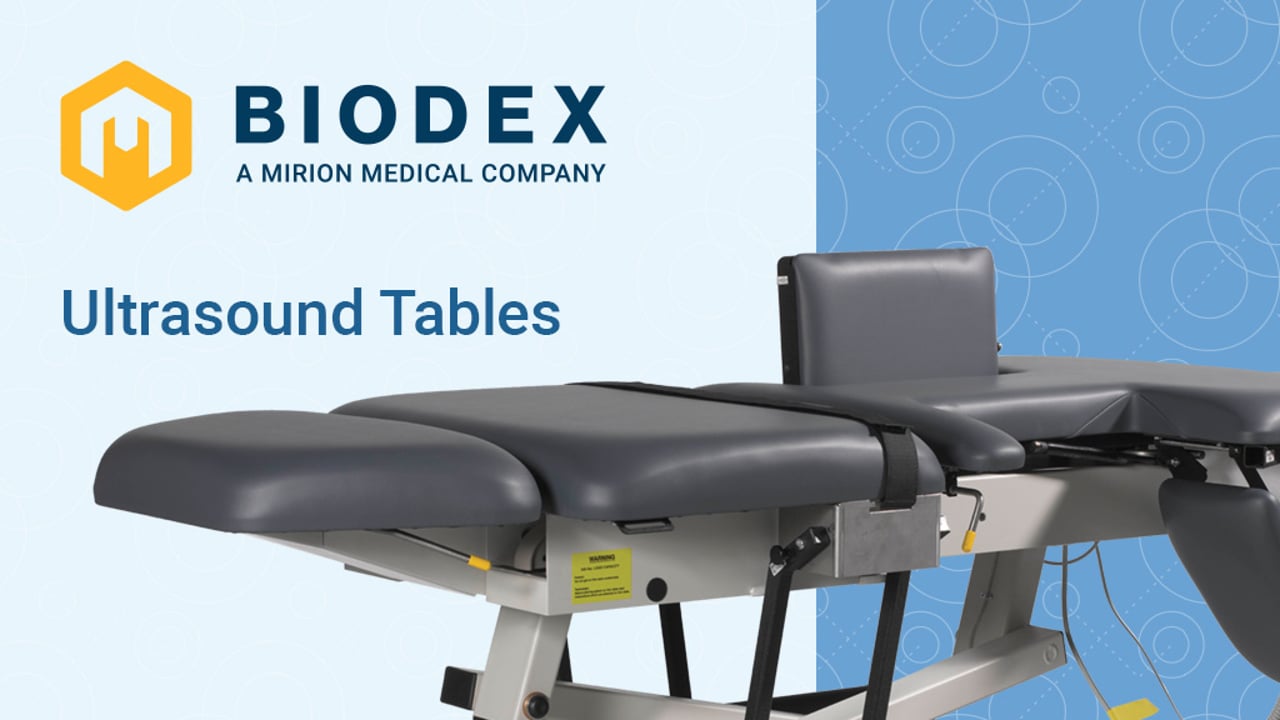 Unobstructed patient access ensures sonographer comfort.
Ergonomic design helps prevent musculoskeletal injuries – comfortable shoulder, arm and hand positions when scanning
Extra-wide top with 500 lb patient capacity, suitable for bariatric patients
Open chassis design for unimpeded patient access
Cardiac drop-down cushion, allows release and return from either side of table
Industry's largest cardiac scanning cutout – 15.75" l x 9.5" w
Fowler positioning, 0 to 80 degrees, redesigned to accommodate natural body extension and sitting position without slide or shift
Height range down to 23" accommodates wheelchair transfers and those with ambulatory difficulties
Motorized height, Fowler positioning, Trendelenburg/ Reverse Trendelenburg and auto-level adjustment
Naugahyde antimicrobial mattress cover with Advanced Beauty Gard top coat provides protection against bacteria
Central floor-locking system maintains table stability
Durable hand controller activates table positions
Allows seated or standing work positions
Optional
Foot Controller is ideal for when hands are busy with other functions
Folding side rails mount flush to table
Articulating Scanning Arm Board, adjustable from 0 to 130 degrees
IV Pole easily attaches for quick convenience
Paper Dispenser accommodates a roll of hygienic table paper. Includes a cutter strap
Headrest drops down 15 degrees to allow for carotid and thyroid studies
Description
The Echo Pro Echocardiography Table is engineered with the sonographer in mind. The ergonomic design provides a barrier-free imaging experience, resulting in less sonographer injury and better quality images.
The table's open chassis features make it easier for the sonographer to access the patient from all sides. The cardiac scanning cushion drops down and releases from either side of the table. The sonographer has open access to the left thorax area for an unobstructed apical approach. Side rails mount flush to the table and fold completely beneath the table when not in use.
Patient comfort is ensured, even during lengthy procedures with our Naugahyde antimicrobial mattress cover.
Configure the Echo Pro table to fit your department needs by adding options such as an Articulating Scanning Arm Board or Headrest for easier thyroid and carotid access.
Models & Ordering
058-700
Table, Echocardiography, Echo Pro™ 115 VAC


Includes Hand Controller.

058-705
Table, Echocardiography, Echo Pro™ 230 VAC


Includes Hand Controller.
Related:
| | |
| --- | --- |
| 058-704 | Chair, Ergonomic, Sonography |
Optional:
| | |
| --- | --- |
| 058-741 | Foot Controller |
| 058-633 | Side Rails, Folding |
| 058-736 | Arm Board, Articulating Scanning |
| 058-737 | IV Pole |
| 058-611 | Dispenser, Paper |
| 058-738 | Headrest |
Do you have a question or need a custom solution? We're here to help guide your research.