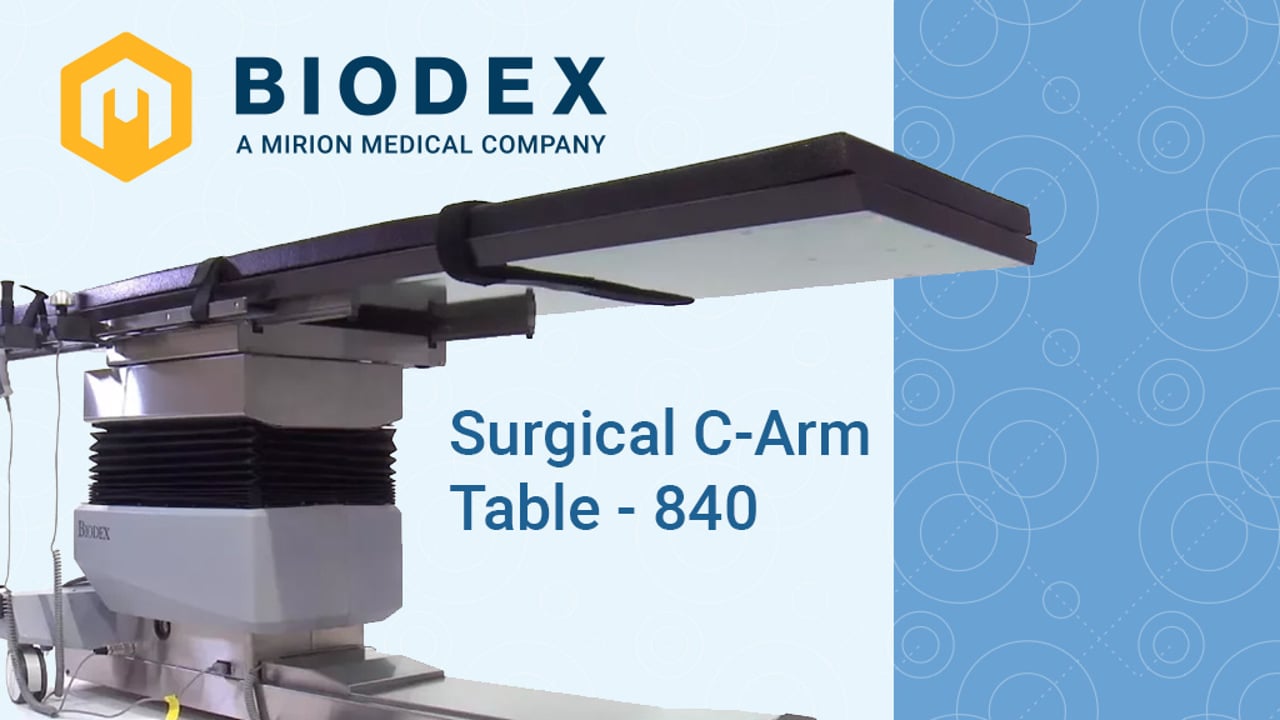 The ideal choice for vascular and endoscopic procedures.
Free-Float Tabletop – With specially-designed SmoothGlide™ movement
Carbon-Fiber Tabletop – 0.7 mm attenuation (1.2 mm with pad) design
Choice of Contoured or Rectangular Design – Contoured tabletop features a face cutout for comfortable prone positioning
Tabletop Motion – Expansive head-to-toe, 35"
Radiolucent Area – Extra-large, 75"
Isocentric Lateral Roll Motion – Maintains image center during tabletop movement, minimizing image distortion (+/- 15°)
Precision Electric Motor Actuators – No oil or hydraulics
High-Speed Actuators – Assure quick tabletop positioning, height adjustability, isocentric lateral roll and Trendelenburg motions
Mushroom-Shaped Control – Ergonomic, for free-float motion
Table Base – Encased in stainless steel, easy to clean
Hand and Foot-Operated Controllers – Ensure quick and safe tabletop positioning
Patient Capacity – 500 lb
Low Profile Base – For unrestricted C-arm movement
Accessory Rails
AC and Battery Power – Standard
Three year limited warranty
Description
With an advanced low attenuation float top for cardiovascular, endoscopic and pain management procedures, the Surgical C-Arm Table 840 is the ideal choice when stability, access, and precise, quiet, vibration-free positioning are essential. A cantilevered low attenuation carbon-fiber tabletop, with choice of rectangular or contoured design, accommodates portable or ceiling-suspended C-Arms.
The extra-large 75" radiolucent area, free-float X-Y tabletop, motorized control of height, isocentric lateral roll, Trendelenburg motions and the catheter tray extension make the Surgical C-Arm Table 840 ideal for cardiovascular and interventional radiology applications. Functional design provides complete access with reduced radiation exposure to clinicians. Patient comfort and stability are assured by two-inch thick table padding and three adjustable straps with hook and loop fastening.
Control Made Easy
The portable hand-held and foot-operated controllers ensure quick and safe tabletop positioning, and can be positioned from any point around the table. Both controllers offer the freedom to adjust height, lateral roll and Trendelenburg motions. The hand-held controller provides the back-to-level function. The foot-operated controller also releases the tabletop for X-Y positioning and is ideal when hands are busy with other functions.
Freedom of Movement
The ergonomic mushroom-shaped control optimizes command of the SmoothGlide™ free-float tabletop. When employing any degree of tilt or roll, X and Y positions are locked to prevent gravity-induced movement. 35" head-to-toe (X) can be maintained during lateral roll; and side-to-side (Y) can be maintained during Trendelenburg positioning.
Isocentric lateral roll motion is a unique movement that maintains center of the focal area, minimizing image distortion. Reducing the time required for adjustments, table or patient, ultimately reduces exposure to scatter radiation.
Models & Ordering
058-840
Table, Surgical C-Arm - 840, Contour, 115 VAC
058-840-10
Table, Surgical C-Arm - 840, Rectangle, 115 VAC

Export models available.
Optional:
058-864
Arm Board, Surgical, Carbon Fiber
056-866

Arm Board, Carbon Fiber, two arms
Fits 840, 846, 870 and 056-025 tables.

056-865
Arm Board, Carbon Fiber, one arm
056-850
IV Pole, Rail Mounted
058-849
Clamp, Accessory, C-Arm Table
058-856
Radiation Shield, Head/Cervical


Fits Surgical C-Arm Tables 840, 846 and 870

058-857
Radiation Shield, Thoracic/AB


Fits Biodex Surgical C-Arm Tables

056-862

Battery and Charging Unit, 115 VAC
056-863
Battery and Charging Unit, 230 VAC
056-802
Bellows Skirt, disposable plastic, 250/roll


Fits Surgical C-Arm Tables 840, Urology C-Arm Table and Brachytherapy Table

046-275
Dispenser, Disposable Protective Roll


For 056-802 Bellows Skirt. Wall mounted.
Biodex Delivery Options for all Imaging Tables*
Dock-to-Dock Delivery – the quickest and most economical delivery service. Requires a raised loading dock at delivery address.
White Glove Service – Inside, full-service delivery. Table is uncrated and brought to customer designated area. All debris is removed. Loading dock is not required.
Future Delivery – Request delivery of imaging table for a specified future date. Indicate on P.O. when delivery is preferred along with type of delivery.
*Offered in the US only. Charges for delivery services apply. Ask for details when placing your order.
Do you have a question or need a custom solution? We're here to help guide your research.