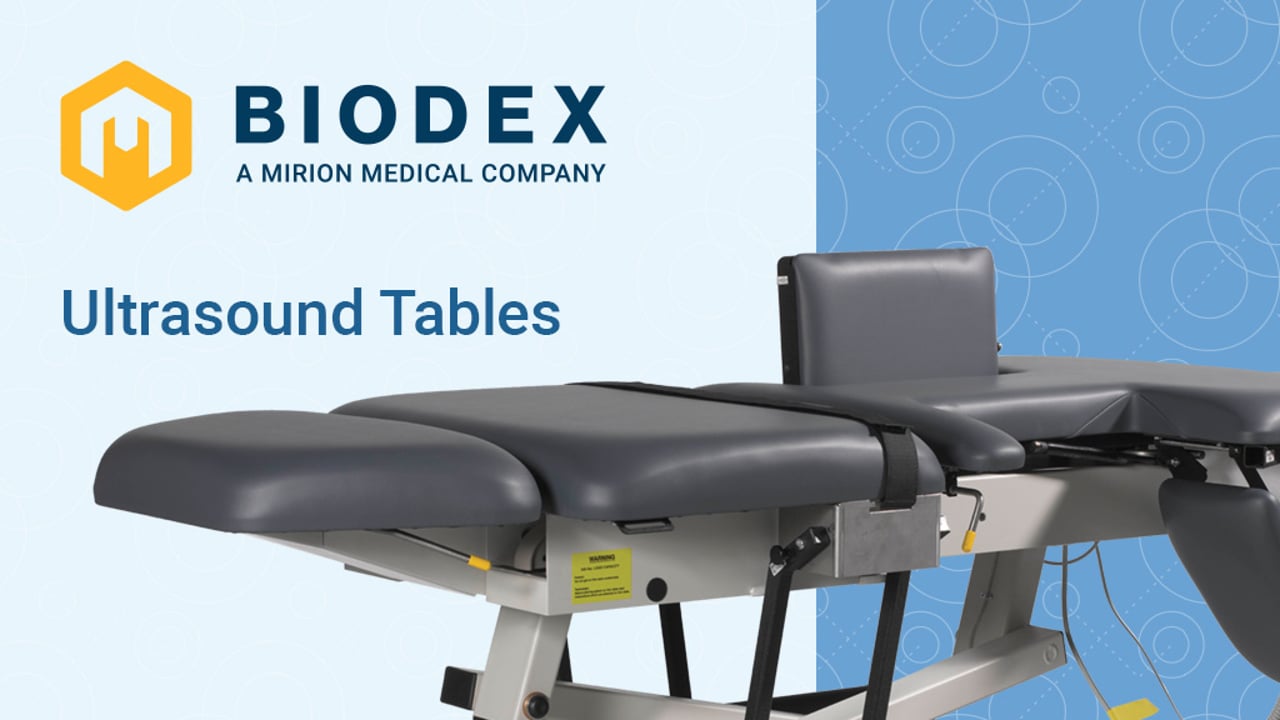 Feature-filled to accommodate ultrasound and echocardiography procedures.
Ergonomic design helps prevent musculoskeletal injuries – comfortable shoulder, arm and hand positions when scanning
Extra wide top with 500-lb patient capacity, suitable for bariatric patients
Cardiac drop-down cushion, allows release and return from either side of table
Open chassis design and flush-mounted folding side rails for unimpeded patient access
Industry's largest cardiac scanning cutout – 9.5" w x 15.75" l
Height range down to 23" accommodates wheelchair transfers and those with ambulatory difficulties
Fowler positioning, 0-80 degrees, designed to accommodate natural body extension and sitting position without slide or shift
Motorized height, Fowler positioning, Trendelenburg motions and auto-level adjustment
Naugahyde® antimicrobial mattress cover with Advanced BeautyGard® provides protection against bacteria
Central floor-locking system maintains table stability
Durable hand controller activaates table positions
Allows seated or standing work positions
Side rails mount flush to table for unencumbered patient access
Stirrups are designed to cup at the heel for added comfort
Articulating Scanning Arm Board, adjustable from 0 to 130 degrees
Foot Controller is ideal for when hands are busy with other functions
IV Pole easily attaches for quick convenience
Paper Dispenser accommodates a roll of hygienic table paper. Includes a cutter strap.
Optional Headrest drops down 15 degrees to allow for carotid and thyroid studies
Three year limited warranty
Description
The Sound Pro Combination Table brings together the imaging features of both the Ultra Pro and Echo Pro tables. Fully equipped for OB/GYN, general ultrasound and echocardiography procedures, the extra-wide tabletop and open chassis is designed with advanced ergonomics to provide maximum comfort for both patient and sonographer. Designed to conform to natural body extension and sitting position, the motorized Fowler positioning is infinitely adjustable to 80 degrees via hand or foot control. The table is so accommodating, it reduces the total amount of time required to achieve a quality image. Stress patients are off the treadmill and quickly onto the table in imaging position.

The cardiac drop-down cushion releases from either side of the table, providing open access to the patient's left thorax area for an unencumbered apical approach. Flush-mounted side rails enable closer access to the patient, without sonographer contortion. When not in use, rails fold beneath the table, eliminating obstruction.
Patient comfort is assured even during lengthy procedures with our Naugahyde antimicrobial mattress cover, which also provides protection against bacteria. Standard accessories available to expand the function of your table include ergonomic stirrups that cup at the heel, an articulating scanning arm board (adjustable from 0 to 130 degrees) and a foot controller for when hands are busy with other functions. The optional Headrest is removable and adjustable, providing convenient access and patient comfort during carotid and thyroid procedures.
Suitable Procedures
Abdomen
Aorta
Endovaginal
Hysterosonography
Testicular
Musculoskeletal
DVT/Lower Extremity Venous
Lower Extremity Arterial
Renal Transplant
SMA
Stress Echo
Renal

Pelvis
OB
Thyroid
Breast
Carotid
Upper Extremity Arterial
Upper Extremity Venous
Renal Artery
Abdominal Doppler
Echcardiography
Transesophogeal Echo
All motorized tables are ETL product listed to the UL 60601-1 Medical Electrical Equipment Safety Standard.
Models & Ordering
058-710
Table, Combination, Sound Pro™, 115 VAC


Includes: hand and foot controllers, folding side rails, articulating scanning arm board, retractable stirrups, IV pole and paper dispenser.

Export models available.
Related:
| | |
| --- | --- |
| 058-704 | Chair, Ergonomic, Sonography |
Optional:
*Note: Options are installed by the customer.
Replacement:
056-612
Table Paper, Hygienic, 12 rolls


18" w x 225' l (46 cm x 69 m)
Biodex Delivery Options for all Imaging Tables*
Dock-to-Dock Delivery – the quickest and most economical delivery service. Requires a raised loading dock at delivery address.
White Glove Service – Inside, full-service delivery. Table is uncrated and brought to customer designated area. All debris is removed. Loading dock is not required.
Future Delivery – Request delivery of imaging table for a specified future date. Indicate on P.O. when delivery is preferred along with type of delivery.
*Offered in the US only. Charges for delivery services apply. Ask for details when placing your order.
Do you have a question or need a custom solution? We're here to help guide your research.